---
---
Contact
Didaktik der Biologie
phone: +49 (0)345 552 6400
fax: +49 (0)345 552 7038

Biologicum, Weinbergweg 10
06120 Halle / S.
postal address:
Biologicum, Weinbergweg 10
06099 Halle / S.
---
---
Login for editors
---
Didactics of Biology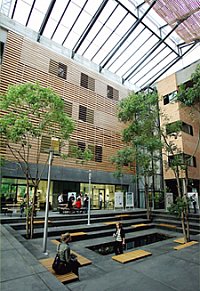 Biologicum: inner courtyard
Welcome to the website of the department of didactics of biology at the Martin-Luther-University
The department of didactics of biology is located inside the Biologicum at Weinbergcampus.
Didactics of biology is the study concerned with teaching and learning processes in biology lessons. Our primary goal of course is to make these lessons as best as possible in order to reach each student's optimum learning level, but at the same time appealing to the biology teachers. You can see the courses we offer if you follow the link to "Teaching".
With our Projects, we try to find out how to reach pupils even better and how to further improve scientific lessons overall, but we also try to learn what might not work too well. What's important with regard to the evaluation of these activities will be explained in the Research section.
Last but not least, you can find information on who we are on the Staff page.
---
---